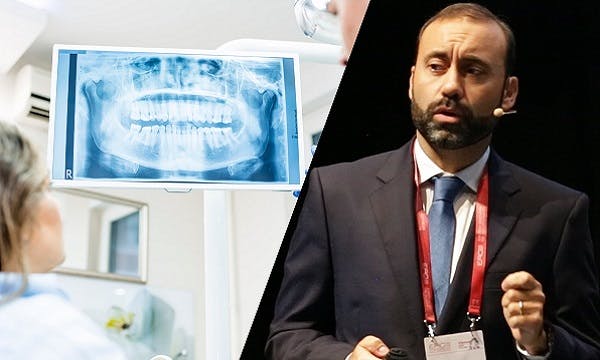 Miguel Nobre presenting MALO CLINIC study results indicating 3X-less bone loss with PEEK-OPTIMA polymer-based dental prosthetics © ljubaphoto/istock; MaloClinic/Invibio
Three-year follow-up study evaluated implantable PEEK-polymer as the framework material for the clinic's "All-on-4®" dental-restoration procedure
Thornton Cleveleys (UK), October 17, 2019 – The MALO CLINIC, Lisbon, has provided further evidence that compared to metal prosthetics, high-performance polymer-based solutions made using the JUVORA™ dental disc from Invibio Biomaterial Solutions, indicate improved patient outcomes, including 3X-less bone loss. The JUVORA disc is constructed from PEEK-OPTIMA™, from Invibio. The MALO Clinic presented these findings at the Congress of the European Association for Osseointegration (EAO), Lisbon, 26 September, 2019. This latest study follows earlier findings presented by the MALO CLINIC in 2018.
The MALO CLINIC's presentation incorporated the results of a three-year follow-up study of the use of the CAD/CAM-millable JUVORA disc as a substructure for the Clinic's signature All-on-4® procedure, where prostheses supported full-arch implant-supported restorations for edentulous patients.
"Our conclusion, after three years of follow-up, is that it must be the PEEK-OPTIMA biomaterial that is helping to enhance patient results, and we think this is really exciting," commented Miguel Nobre, Director of Oral Hygiene and R&D, MALO CLINIC. "What JUVORA offers us is confidence that patients are receiving the best possible treatment, and not experiencing unnecessary bone loss."
Specifically, the evidence presented at the EAO in September showed that compared to metal, use of the JUVORA-based prostheses had positive results[1]
3X-lower marginal bone loss
Peri-implant disease avoided in most patient cases
Patients reported an improved quality of life
Absence of correlation between plaque and bleeding
High implant survival – close to 100%
PEEK-OPTIMA™ offers several mechanical benefits over metal frameworks, namely, a more favorable strength-to-weight ratio and the potential for shock absorbtion. Metal prosthetics are naturally stronger; however they are less resilient and can be less comfortable for the patient[2].
If left untreated, bone loss can lead to pain, infection and loss of lower facial structure as the infection eats away at the jaw bone.
Added Director Nobre, "The All-on-4 technique has not changed; our experienced surgeons have not changed – the only change is the material substructure. Therefore, when the JUVORA disc is used as the substructure for All-on-4, the PEEK-OPTIMA material mimics the behaviour of natural periodontal ligament by providing a cushioning and shock-absorbing effect in the mouth, under extreme force."
The MALO CLINIC did not discriminate in its patient selection and included a number of cases with complex histories, including heavy bruxers. This means that even in complex cases, JUVORA exhibits better performance than conventional dental materials such as titanium.
Shock-absorbing properties of JUVORA
The shock-absorbing properties of PEEK-OPTIMA are explained by its modulus of elasticity, which is very similar to that of cortical bone. When stress transfer is measured against conventional dental materials, PEEK exhibits the most shock absorption[3].
EAO 2019 video
Watch a video of The MALO CLINIC presenting its research at EAO, September 2019.
Further information is available at https://www.invibio.com/dental
References
1. Nobre, M; Guedes, M; Silva A. European Association for Osseointegration (EAO) Congress Symposium: What if dental prosthetic could influence quality of life? September 2019.
2. Kurtz, S (2012). "PEEK Biomaterials Handbook". Edition 1, Oxford, Elsevier Inc.
3. Based on the tendency of a material to deform when opposing forces are applied as expressed by the average elastic (Young's) modulus values of the two materials (Titanium 110 GPa or PEEK 4GPa).
® All-on-4 is a registered trademark of Nobel Biocare.
About Juvora
Juvora Limited is the legal manufacturer of the JUVORA dental disc and alongside Invibio (see below) is part of the Victrex plc group of companies (see below). The JUVORA solution can be used as a metal alternative for long-term implant borne, fixed and removable prosthetic frameworks made with precision through CAD/CAM workflows. It is made from Invibio Biomaterial Solutions´ PEEK-OPTIMA high performance polymer. Find out more at https://invibio.com/dental
About Invibio Biomaterial Solutions
Invibio, part of the Victrex plc group of companies, is a global leader in providing high-performance biomaterial solutions to medical device manufacturers. The company provides PEEK-OPTIMA™ polymers, advanced technical research and support and manufacturing of components for spine, trauma and orthopaedic and dental medical segments for the development of long-term implantable medical devices. Today, Invibio's PEEK-OPTIMA™ polymers are used in approximately 9 million implanted devices worldwide.
JUVORA™, INVIBIO™, PEEK-OPTIMA™, INVIBIO BIOMATERIAL SOLUTIONS™ are trademarks of Victrex plc or its group companies. All rights reserved. Find out more at https://invibio.com/
About Victrex plc
Victrex is an innovative world leader in high performance PAEK/PEEK polymer solutions, focussed on the strategic markets of automotive, aerospace, energy (including manufacturing & engineering), electronics and medical. Every day, millions of people use products and applications, which contain our materials – from smart phones, aeroplanes and cars to oil and gas operations and medical devices. With 40 years' experience, we develop world leading solutions in PEEK and PAEK-based polymers and selected semi-finished and finished parts which shape future performance for our customers and our markets, and drive value for our shareholders. Find out more at www.victrex.com
Copyright ©2019 Invibio Ltd.
Media Contacts
Invibio Biomaterial Solutions media contact
Beate Sauer, PR & Marketing Communications Manager
bsauer@victrex.com
phone: +49 61 92 / 96 49 19
Victrex Group Investor Relations or media enquiries
Andrew Hanson, Director of Investor Relations & Corporate Communications
ahanson@victrex.com
phone: +44 12538 98121
Victrex plc and/or its group companies (Victrex plc) believes that the information contained in this press release is an accurate description of the typical characteristics and/or uses of the product(s) and is based on information that we believe is reliable. However, it is provided for information only. It is not intended to amount to advice on which you should rely and should not be construed as, or used as a substitute for other professional or specialist advice. In particular, it is the customer's responsibility to thoroughly test the product in each specific application to determine its performance, efficacy, and safety for each end-use product, device or other application. Suggestions of product uses should not be taken as inducements to infringe any particular patent. Mention of a product in this document is not a guarantee of its availability.
Victrex plc reserves the right to modify products, specifications and/or packaging as part of a continuous program of product development. Victrex plc makes no warranties, express or implied, including, without limitation, a warranty of fitness for a particular purpose or of intellectual property non-infringement, including but not limited to patent non-infringement, which are expressly disclaimed, whether express or implied, in fact or by law.
Further, Victrex plc makes no warranty to your customers or agents, and has not authorised anyone to make any representation or warranty other than as provided above. Victrex plc shall in no event be liable for any general, indirect, special, consequential, punitive, incidental or similar damages, or any damages for harm to business, lost profits or lost savings, even if Victrex has been advised of the possibility of such damages regardless of the form of action. The foregoing does not seek to affect our liability in respect of: (i) death or personal injury arising from our negligence; (ii) fraudulent misrepresentation; (iii) product liability or other consumer remedy claims brought by an individual consumer in relation to our products; (iv) nor any other liability which cannot be excluded or limited under applicable law.
© 2018 Victrex plc. VICTREX™, APTIV™, VICOTE™, VICTREX PIPES™, VICTREX HT™, VICTREX ST™, VICTREX WG™, PEEK-ESD™ and the Triangle (Device), are trademarks of Victrex plc or its group companies. All rights reserved.
Supporting information on all claims is available upon request from Juvora Ltd, Technology Centre, Hillhouse International, Thornton Cleveleys, Lancashire, FY5 4QD, United Kingdom, Tel +44 (0) 1253 897555, Email: info@juvoradental.com.
You may also be interested in...