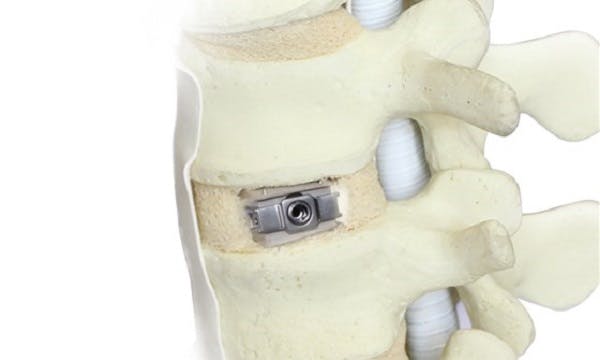 "Uplifter", an innovative spinal implant solution for China from Fule, Beijing, sparked great interest and attention among spine surgeons during a live demonstration at the joint CAOS/NASS congress
Thornton Cleveleys (UK), August 14, 2018 – The growing interest in PEEK-OPTIMA™ spinal implants in China received further impetus at the 11th Congress of the Chinese Association of Orthopaedic Surgeons (CAOS) held in partnership with the North American Spine Society (NASS). At this event, Fule Science & Technology Development, Beijing, and Invibio Biomaterial Solutions partnered to demonstrate the new Uplifter® Expandable Anterior Lumbar Interbody Fusion Device in a hands-on workshop in Shanghai.
The Uplifter is the first domestic expandable hybrid cage, whose constituent materials are Invibio's PEEK-OPTIMA™ Natural polymer and titanium. Indications for use of the Uplifter comprise Degenerative Disc Disease (DDD) of L2-L5, nerve root-canal stenosis, and lumbar spondylolisthesis.
During the live demonstration on a cadaver using the Uplifter, Dr Patrick C. Hsieh, from the USC Spine Center in Los Angeles, demonstrated the Direct-Lateral Lumbar Interbody Fusion (DLIF) procedure and device specifics: "The benefits of using PEEK1 for spinal implants include radiolucency that assists in accurate fusion assessment as well as having a track record of excellent long-term clinical results and radiographic fusion rates. Invibio PEEK-OPTIMA polymer combined with the features of Fule's expandable cage allows 3-5mm of expansion, supporting the restoration of disc height and lordosis with more optimal foraminal height." Further clinical features of this hybrid implant include according to Fule:
Minimized impaction contributing to preservation of endplate integrity
Controlled expansion and anatomical fit helping to maximize indirect decompression through disc height restoration
Continuous expansion that can maintain stability by optimizing the fit
Professor Renfu Quan, a faculty member at Hangzhou Xiaoshan TCM hospital responsible for on-site cadaver workshops, explained the standard surgical techniques for OLIF and demonstrated the procedures for the surgeons present in a lab setting. Using Fule's retractors and instruments, he showed how to implant their expandable"Poster" cage.
This live demo was available to surgeons who attended the workshop in Shanghai and was also broadcast directly to the CAOS/NASS congress in Hangzhou. The demo has also been published through the CAOS online education platform, being available to more than 10,000 participants in the CAOS congress.
Radiolucent biomaterial allows better fusion assessment
"PEEK has been used for interbody fusion devices for many years. Both, the literature and my personal experience indicate that PEEK provides better clinical outcomes compared with titanium-only approaches in spinal fusion. There is a higher fusion rate and lower subsidence", Dr. Xifeng Zhang, from Beijing 301 Hospital, emphasized in his 'Review of Clinical Applications and results associated with Direct-Lateral Lumbar Interbody Fusion (DLIF). Indeed, the potential benefits of PEEK-OPTIMA Natural in conventional spinal cages may translate to expandable cages. They include radiolucency, with no artifacts present, allowing better fusion assessment by CT and MRI and a modulus of elasticity close to that of bone, reducing stress shielding, which may otherwise contribute to implant subsidence."
Guoping Fan, Technology Director at Fule Science & Technology Development Company commented: "To drive advances in orthopedics we partner with a variety of experts ranging from material and technology experts to orthopedic surgeons treating patients. The in-depth technical cooperation with Invibio for example allowed the development and introduction of this first hybrid PEEK-titanium expandable cage in China for DLIF and OLIF procedures. Now we are working full speed to develop the spinal fusion devices with PEEK-OPTIMA HA Enhanced."
In China, Invibio´s enhanced PEEK is a relatively new thermoplastic biomaterial offering all of the clinical advantages of the unfilled "PEEK-OPTIMA Natural" polymer. In addition, it has been shown to improve bone apposition compared to unfilled PEEK-OPTIMA Natural in a pre-clinical ovine model at 4 weeks and 12 weeks2, and also demonstrated performance advantages in a pre-clinical cervical spine fusion model in sheep at 6 and 12 weeks.2 In PEEK-OPTIMA HA Enhanced, Hydroxyapatite (HA), a well-known osteoconductive material, is fully integrated into the polymer matrix, and not simply coated on the surface. Early clinical results for cervical and lumbar spinal fusion reveal potential patient benefits and specific improvements for the enhanced biomaterial including solid fusions as early as 6 months, beneficial clinical outcomes at early time points, improvements in overall pain and neurological function.3
With China's accelerating interest in innovative materials such as PEEK-OPTIMA from Invibio for spinal implants, it is expected that more and more patients can potentially benefit from implants using the high performance polymer. Today, more than 140 devices in China have been approved by the CFDA [China Food and Drug Administration, aka SFDA (State Food Drug Administration) ], with over 10 years of accumulated clinical history in China.4
The 11th CAOS/NASS congress in May marks the second time Invibio has partnered with a medical-device manufacturer in China to support surgeon education. The company´s PEEK-OPTIMA implants now have over 15 years of clinical history and approximately nine million PEEK-OPTIMA devices have been implanted worldwide.5
References:
(1) PEEK" is the abbreviation for polyetheretherketone, a high-performance polymer from the PAEK (polyaryletherketone) family.
(2) Walsh WR, Pelletier MH, Bertollo N, Christou C, Tan C. Does PEEK/HA Enhance Bone Formation Compared With PEEK in a Sheep Cervical Fusion Model? Clin Orthop Relat Res. 2016 Nov; 474(11):2364-2372.
(3) Testimonials presented have been provided by practicing orthopaedic surgeons. Their view and experience are their own and do not necessarily reflect those of others. "Invibio" disclaims any liabilities or loss in connection with the information herein.
(4) Data on file at Invibio Biomaterial Solutions.
(5) Data on file at Invibio Biomaterial Solutions.
Further information is available on https://invibio/com
+++
About Fule Science & Technology Development
Established in 1994, Beijing Fule Science & Technology Development Co. Ltd is a manufacturer and trader specialized in the research, development and production of Orthopaedic products including spinal products, trauma products, multi-functional external fixator, knee meniscus suturing device, rehabilitation instrument and related instruments. The company's products have been widely used by thousands of large and medium-sized hospitals and achieved a good report, winning a high reputation from many orthopedic experts. Further information is available on http://www.fulekeji.com/en/index.php
About Invibio Biomaterial Solutions
Invibio, part of the Victrex plc group of companies, is a global leader in providing high-performance biomaterial solutions to medical device manufacturers. The company provides PEEK-OPTIMA™ polymers, advanced technical research and support and manufacturing of components for spine, trauma and orthopaedic and dental medical segments for the development of long-term implantable medical devices. Today, Invibio's PEEK-OPTIMA™ polymers are used in approximately 9 million implanted devices worldwide. Find out more at https://invibio.com/
JUVORA™, INVIBIO™, PEEK-OPTIMA™, INVIBIO BIOMATERIAL SOLUTIONS™ are trademarks of Victrex plc or its group companies.
About Victrex plc
Victrex is an innovative world leader in high performance PAEK/PEEK polymer solutions, focussed on the strategic markets of automotive, aerospace, energy (including manufacturing & engineering), electronics and medical. Every day, millions of people use products and applications, which contain our materials – from smart phones, aeroplanes and cars to oil and gas operations and medical devices. With over 35 years' experience, we develop world leading solutions in PEEK and PAEK-based polymers and selected semi-finished and finished parts which shape future performance for our customers and our markets, and drive value for our shareholders. Find out more at www.victrex.com or www.victrexplc.com
Media Contacts
Invibio Biomaterial Solutions media contact
Barbara Pasciak, Marketing Communications Manager, barbara.pasciak@invibio.com, Phone +1 484-342-6041
Victrex media contact
Beate Sauer, PR & Marketing Communications Manager, bsauer@victrex.com, Phone +49 61 92 / 96 49 19
Corporate, financial media or investor enquiries
Andrew Hanson, Director of Investor Relations & Corporate Communications, ahanson@victrex.com, Phone +44 12538 98121
Victrex plc and/or its group companies (Victrex plc) believes that the information contained in this press release is an accurate description of the typical characteristics and/or uses of the product(s) and is based on information that we believe is reliable. However, it is provided for information only. It is not intended to amount to advice on which you should rely and should not be construed as, or used as a substitute for other professional or specialist advice. In particular, it is the customer's responsibility to thoroughly test the product in each specific application to determine its performance, efficacy, and safety for each end-use product, device or other application. Suggestions of product uses should not be taken as inducements to infringe any particular patent. Mention of a product in this document is not a guarantee of its availability.
Victrex plc reserves the right to modify products, specifications and/or packaging as part of a continuous program of product development. Victrex plc makes no warranties, express or implied, including, without limitation, a warranty of fitness for a particular purpose or of intellectual property non-infringement, including but not limited to patent non-infringement, which are expressly disclaimed, whether express or implied, in fact or by law.
Further, Victrex plc makes no warranty to your customers or agents, and has not authorised anyone to make any representation or warranty other than as provided above. Victrex plc shall in no event be liable for any general, indirect, special, consequential, punitive, incidental or similar damages, or any damages for harm to business, lost profits or lost savings, even if Victrex has been advised of the possibility of such damages regardless of the form of action. The foregoing does not seek to affect our liability in respect of: (i) death or personal injury arising from our negligence; (ii) fraudulent misrepresentation; (iii) product liability or other consumer remedy claims brought by an individual consumer in relation to our products; (iv) nor any other liability which cannot be excluded or limited under applicable law.
© 2018 Victrex plc. VICTREX™, APTIV™, VICOTE™, VICTREX PIPES™, VICTREX HT™, VICTREX ST™, VICTREX WG™, PEEK-ESD™ and the Triangle (Device), are trademarks of Victrex plc or its group companies. All rights reserved.
Supporting information on all claims is available upon request from Invibio Ltd.
You may also be interested in...