In recent years
PEEK-OPTIMA™ Natural polymer
has been used increasingly in custom implants for cranioplasty following trauma, cancer or infection, especially in cases requiring larger reconstructions with a high degree of complexity. Combining the intrinsic properties of PEEK-OPTIMA Natural - no artifact on MRI or CT - together with a bone-like modulus, it can extend the range of patient and surgeon benefits beyond those of medical-grade titanium or autologous bone in these cases.
Implant Options
The key clinical challenges in reconstruction of craniofacial bone defects today are:
Infection
Implant fit
Ability to carry out complex reconstructions
Aesthetic appearance
There is a growing surgeon awareness to overcome these clinical challenges by using prefabricated custom implants for cranioplasty procedures. Today's custom implants employ the latest advances in imaging, coupled with 3D modelling and state of the art manufacturing to produce the final implant with perfect fit. A number of material options are at the disposal of the surgeon when it comes to cranioplasty. Among these are: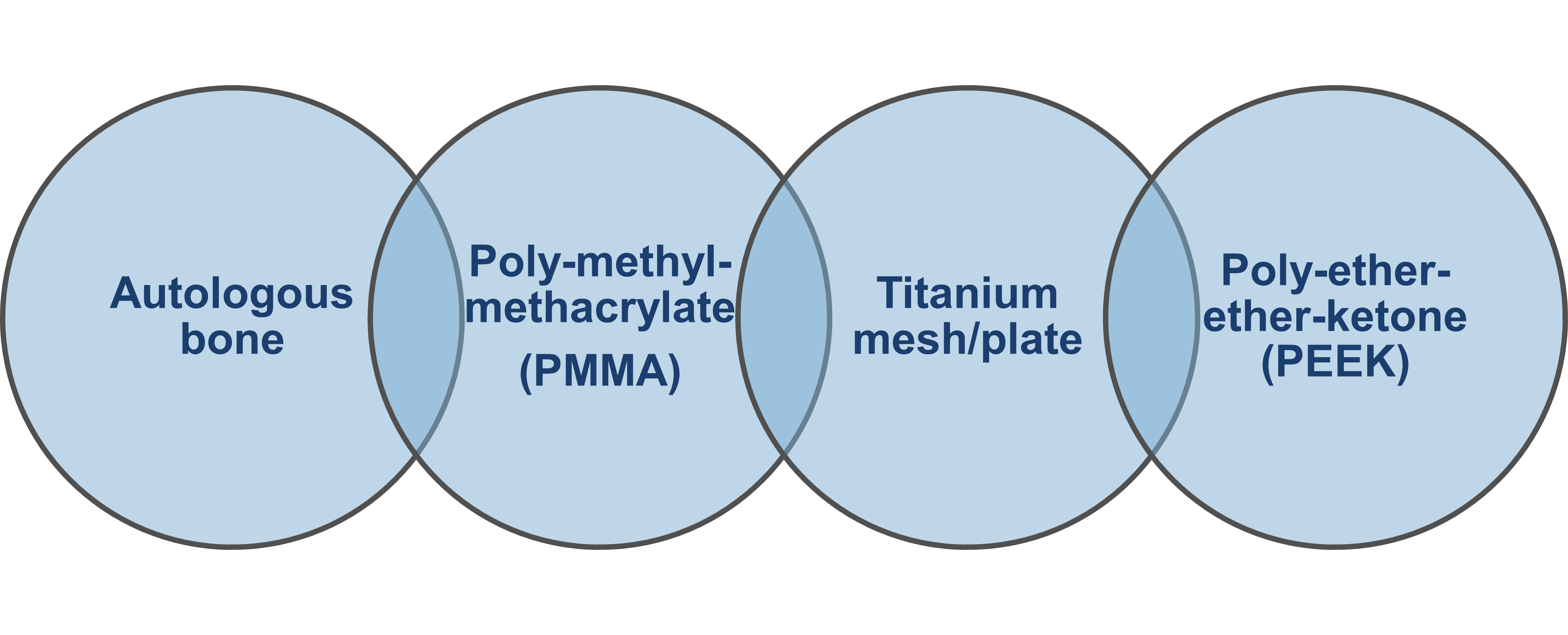 Autologous bone
Non-custom options include the patient's own bone in the form of the original bone flap that can be used in delayed cranioplasty, but needs to be stored prior to the second surgery, such as in the abdominal cavity or frozen. Bone grafts, for example from the rib, can also be used for reconstruction of small defects, but not with larger, more complex defects. In both cases, the potential exists for unpredictable bone resorption, which can result in a less than ideal aesthetic outcome, and often the need for a second surgery.1
PMMA
Hand-formed or templated PMMA has been used for decades and is both durable and moldable, but the curing process is exothermic raising the potential for thermal necrosis.2 This can be avoided with the use of prefabricated, custom PMMA implants.
Titanium mesh or plates
Custom titanium implants (mesh or plate) are strong and provide a good fit, but challenges can exist with implant exposure,3,4 temperature sensitivity,5 and artifact generation on MRI.6 More recently one study even suggested an association between patients with hypersensitivity to more than three types of metal, and higher rates of titanium plate exposure.7
PEEK
Finally then, custom PEEK cranial implants are another option for the craniofacial surgeon and are the subject of the remainder of this article. As with the majority of custom cranial implants, implant cost (a combination of material, design and manufacturing costs) can be significantly higher than with other options, such as autologous bone or hand-formed PMMA. As can be seen with custom PEEK cranial implants however, this is often offset by shorter operating room time, surgical ward and ICU stay.8,9 Add to this, the cost of secondary operations associated with bone resorption in autologous bone cases and the overall costs become more comparable,10 while resulting in better outcomes for the patients.
Advantages of PEEK in Custom Cranioplasty
Physical Properties and Implant Fit
PEEK-OPTIMA Natural provides many of the key attributes required for success of custom cranioplasty, with good outcomes in large or complex defects.11 Its strength is a clear advantage, especially in the frontal bone region which is prone to impact. Meanwhile, its modulus (lower than that of titanium and closer to that of cortical bone) may help minimize stress shielding.12,13 In a numerical model simulating different impact scenarios, and comparing PEEK with hydroxyapatite (HA), higher deformation was generally experienced with HA, and in terms of implant failure and likelihood of traumatic brain injury, PEEK performed well under these different loading conditions.14 Similarly Lethaus et al. demonstrated in a mechanical loading study with titanium and PEEK-OPTIMA Natural implants that PEEK fractured at higher loads than those described in the literature required to cause fractures in the lateral skull region of cadavers.15 The authors also recorded the resultant deformation of the implants under load and concluded that the closer matching modulus of PEEK may be more protective than titanium against traumatic brain injury, due to a dampening effect.

As with some of the other alloplastic materials, PEEK is compatible with CAD/CAM milling processes, resulting in a more precise implant fixation while still allowing some intra-operative fine-tuning of contours. As might be expected, aesthetic outcomes and patient satisfaction is high in those patients receiving custom PEEK implants.16-20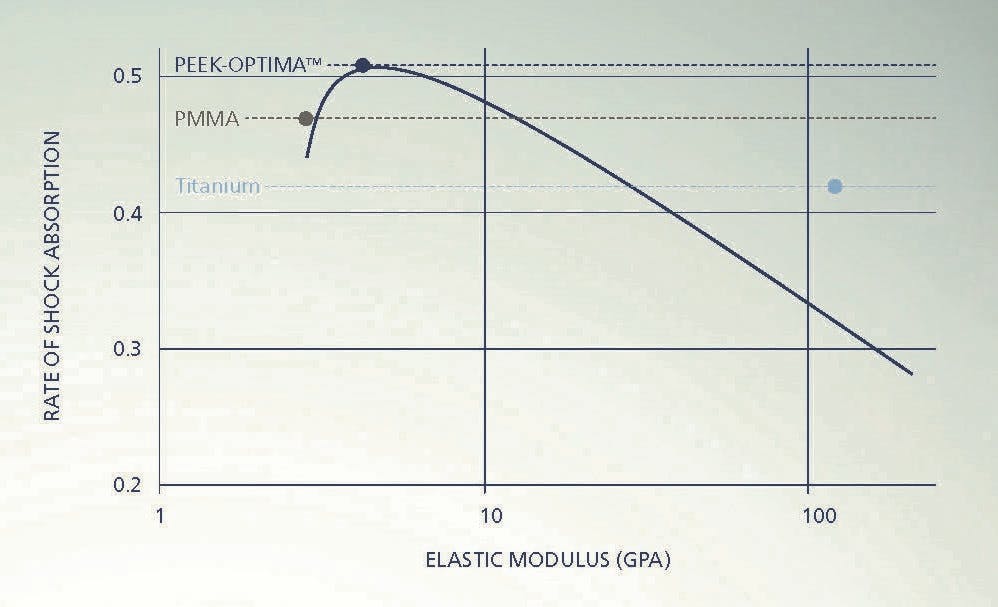 Figure 1: Young's Modulus
Imaging
Another major advantage of PEEK is its radiolucency and artifact-free imaging on CT and MRI, allowing post-operative diagnostic monitoring, which is particularly important in oncology cases.18,21 In one recent study, it was also identified that PEEK cranioplasty implants are permeable to ultrasound, allowing visualization of intracranial parenchymal and vascular structures and thereby adding yet another valuable diagnostic imaging tool.22 Finally, and again of importance in oncology cases, Jalbert et al. suggested that radiotherapy can be used in these patients.18 This stems from the fact that PEEK-based implants have been shown to minimize dose perturbation and allow better dose-planning and radiotherapy in the treatment of spinal tumors.23,24

3 Clinical Outcomes with Custom PEEK Implants
In comparison with autologous bone, custom PEEK implants have been shown to result in significantly lower complication rates8 and, in a study of PEEK-OPTIMA Natural vs. titanium mesh (+/- acrylic cement), Ng et al. found no complications in the PEEK group, but 80% and 43% in the titanium and titanium plus acrylic groups, respectively. Similarly, there were no failures in the PEEK group, but 60% and 43% in the titanium and titanium plus acrylic groups, respectively.2,5
1. Avoiding post-operative infection
Another large study of 132 patients receiving PEEK-OPTIMA Natural or titanium mesh implants, found that overall complication rates, including infection, were similar between the groups, but there was a trend towards increased exposure of the titanium implants.3 Although infection rates can be dependent upon a number of factors, including length of surgery and proximity to the frontal sinus, the rate associated with PEEK cranioplasty is similar to that of prefabricated PMMA and titanium plates, but lower than that observed for autologous bone.2,6
2. Improving brain function and reducing implant exposure
In probably the largest, multi-center retrospective study to date comparing PEEK-OPTIMA Natural with titanium, Zhang et al. followed a total of 185 patients.4 The indication for the majority of patients in each group was trauma (82.7% in the PEEK group vs. 70.0% in the titanium mesh group), and most involved complex reconstructions (78.7% in the PEEK group vs. 80.9% in the titanium group). The authors identified a number of significant differences between the groups. Among these, brain function improvement was higher in patients receiving a PEEK implant (25.3%) compared with titanium implant (10.9%), and the PEEK group displayed a significantly lower rate of complications overall (17.3%) compared with the titanium mesh group (31.8%). Of note also, was the higher incidence of post-operative implant exposure in the titanium group which can, in many cases, necessitate re-operation. A similar propensity for wound breakdown and implant exposure of titanium implants compared with PEEK has been seen in other studies.3,25
3. Reducing risk of complications
Finally, a recent systematic review and meta-analysis looked at the combined literature for PEEK cranioplasty and compared it with the outcomes of titanium mesh and autologous bone.27 In the meta-analysis comparing PEEK with autologous bone, there were no instances of complication in the PEEK group, while the complication rate in the bone group was 37%, representing a 7.69-fold increase in the odds of complication with autologous bone. Similarly, there was a 1.74-fold increase in the odds of implant failure in the autologous bone group compared with PEEK (10.9% vs. 0% respectively).
The second meta-analysis included in this study comparing with titanium mesh revealed similar advantages with PEEK, including a 7.87-fold increase in the odds of post-operative complication with titanium (38.1% vs. 16.7% for PEEK) and a 5.88-fold increase in the odds of implant failure with titanium (26.5% vs. 8.3% for PEEK). Implant infection was seen in 6% of PEEK cases, which was towards the lower or midpoint of the ranges cited by the authors in the literature (0-25.9% for bone and 0-11% for titanium mesh). Similarly, the overall complication rate (15.3%) and failure rate (8.7%) for PEEK implants were towards the lower end cited in the literature for autologous bone and titanium mesh.

The authors concluded that there was a trend towards lower post-operative complications with PEEK compared with autologous bone as well as a trend towards lower implant failure with PEEK compared with titanium.27 Although these trends did not quite reach statistical significance (probably due to the small number of studies and data available), this is the first study employing statistical analysis of multiple studies that points towards potentially advantageous clinical outcomes for PEEK cranioplasty patients.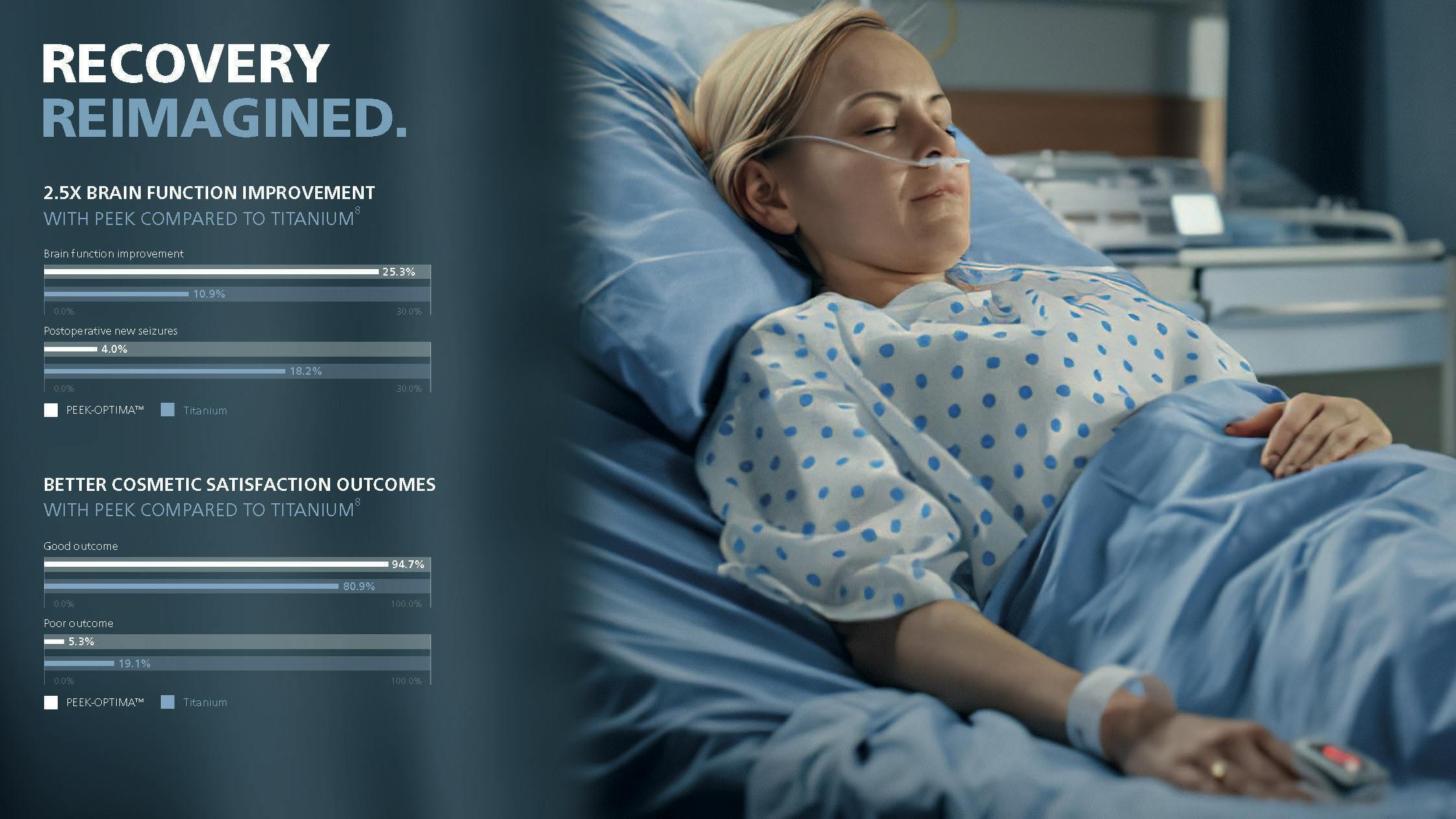 Conclusion
As shown by these studies, custom PEEK-OPTIMA Natural cranial implants have the potential to deliver excellent, aesthetic and clinical outcomes with the potential for lower complication rates compared with some traditional materials. With the advent of improved CT imaging and the rise of additive manufacturing in medical applications, we may yet see further innovations in this therapeutic area allowing surgeons to address ever more complex reconstructions.
About the author
Michael Veldman is the Global Strategic Marketing Manager at Invibio Biomaterial Solutions.
REFERENCES

1. Schoekler B, Trummer M. Prediction parameters of bone flap resorption following cranioplasty with autologous bone. Clin Neurol Neurosurg. 2014;120:64-67.
2. Shah AM, Jung H, Skirboll S. Materials used in cranioplasty: a history and analysis. Neurosurg Focus. 2014;36(4):E19.
3. Thien A, King NK, Ang BT, Wang E, Ng I. Comparison of polyetheretherketone and titanium cranioplasty after decompressive craniectomy. World Neurosurg. 2015;83(2):176-180.
4. Zhang Q, Yuan Y, Li X, et al. A Large Multicenter Retrospective Research on Embedded Cranioplasty and Covered Cranioplasty. World Neurosurg. 2018;112:e645-e651.
5. Zanotti B, Zingaretti N, Verlicchi A, Robiony M, Alfieri A, Parodi PC. Cranioplasty: Review of Materials. J Craniofac Surg. 2016;27(8):2061-2072.
6. Cabraja M, Klein M, Lehmann TN. Long-term results following titanium cranioplasty of large skull defects. Neurosurg Focus. 2009;26(6):E10.
7. Sun Y, Hu Y, Yuan Q, et al. Association between metal hypersensitivity and implant failure in patients who underwent titanium cranioplasty. J Neurosurg. 2018:1-7.
8. Gilardino MS, Karunanayake M, Al-Humsi T, et al. A comparison and cost analysis of cranioplasty techniques: autologous bone versus custom computer-generated implants. J Craniofac Surg. 2015;26(1):113-117.
9. Lethaus B, Bloebaum M, Koper D, Poort-Ter Laak M, Kessler P. Interval cranioplasty with patient-specific implants and autogenous bone grafts-- success and cost analysis. J Craniomaxillofac Surg. 2014;42(8):1948-1951.
10. Mrad MA, Murrad K, Antonyshyn O. Analyzing the Cost of Autogenous Cranioplasty Versus Custom-Made Patient-Specific Alloplastic Cranioplasty. J Craniofac Surg. 2017;28(5):1260-1263.
11. Alonso-Rodriguez E, Cebrian JL, Nieto MJ, Del Castillo JL, Hernandez- Godoy J, Burgueno M. Polyetheretherketone custom-made implants for craniofacial defects: Report of 14 cases and review of the literature. J Craniomaxillofac Surg. 2015;43(7):1232-1238.
12. Invibio Data on File.
13. Henkel J, Woodruff MA, Epari DR, et al. Bone Regeneration Based on Tissue Engineering Conceptions - A 21st Century Perspective. Bone Res. 2013;1(3):216-248.
14. Garcia-Gonzalez D, Jayamohan J, Sotiropoulos SN, et al. On the mechanical behaviour of PEEK and HA cranial implants under impact loading. J Mech Behav Biomed Mater. 2017;69:342-354.
15. Lethaus B, Safi Y, ter Laak-Poort M, et al. Cranioplasty with customized titanium and PEEK implants in a mechanical stress model. J Neurotrauma. 2012;29(6):1077-1083.
16. Brandicourt P, Delanoe F, Roux FE, Jalbert F, Brauge D, Lauwers F. Reconstruction of Cranial Vault Defect with Polyetheretherketone Implants. World Neurosurg. 2017;105:783-789.
17. Gerbino G, Zavattero E, Zenga F, Bianchi FA, Garzino-Demo P, Berrone S. Primary and secondary reconstruction of complex craniofacial defects using polyetheretherketone custom-made implants. J Craniomaxillofac Surg. 2015;43(8):1356-1363.
The third-party trademarks used herein are the trademarks of their respective owners.
You may also be interested in...