We sat down with Invibio's Thomas Billings Senior Application Engineer and Marcus Jarman-Smith Market Strategist, to dig deeper into why Invibio are championing PEEK as an efficient, innovative material for use in implantable medical devices, and what its adoption could mean for the promising future of the MedTech space.
He explained: "Challenges were raised or highlighted by the COVID-19 pandemic. We saw this during the lockdowns that all experienced. Things such as restricted access to healthcare highlighted the need for remote patient monitoring, as well as the importance of connectivity".

"There was a shift from providing decentralised healthcare, from traditional inpatients to different points of care such as outpatients or as a remote patient receiving care at home".

"Product innovation in medical device design, particularly material selection, can allow those challenges to be more readily overcome. It allows product designers to incorporate data acquisition, remote device adjustment and at the same time, address the devices demanding connectivity. That changes key end user requirements, which often has implications."
A new era for medical devices is here
This shift according to Marcus, was as much of a cultural shift as it was a technological change, we now live vastly different lives to how we did just five years ago, let alone 10. New analysis from McKinsey, for example, indicates telehealth use has increased 38x from the pre-COVID-19 baseline.
The Internet of Things (IoT) has highlighted the demand for remote connectivity. The COVID-19 pandemic temporarily changed our ability to access traditional healthcare services, unexpectedly revolutionizing digital processes, and so what we ask of our implantable devices must follow an entirely new narrative.
4 Market Trends in Active Implantable Medical Devices, led by PEEK
So, what are the trends in the active implantable medical device market and how they influence device design?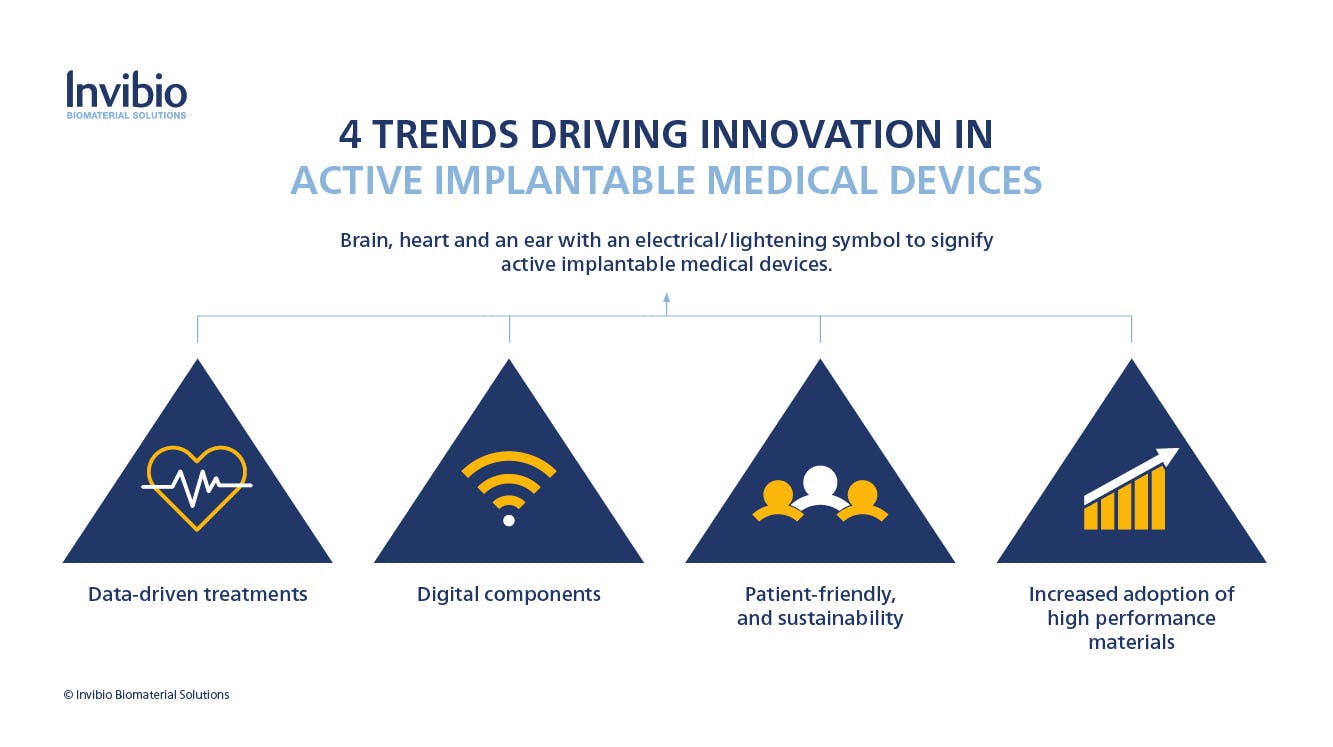 Marcus identified 4 key trends:
moving towards acquiring real-world evidence and data-driven treatments
implants that are targeted to incorporating digital solutions
device development solutions that are more efficient, patient-friendly, and sustainable
an increase in the adoption of high performance PEEK polymers
We want connectivity, 24/7
Tom Billings further explains how the need for change has been driven in such a short space of time.

He said: "The materials that might have performed satisfactorily before in medical devices, are suddenly challenged when product designers seek new performance capabilities. For example, to be connected 24/7 and to acquire information whilst being implanted for longer.

"So, that's where we've seen more product innovation and more requests for high performance polymer materials, such as PEEK-OPTIMA™, that can cope with a wide range of engineering requirements. PEEK was developed to deal with multiple key end user requirements, such as biocompatibility, artifact-free imaging, manufacturing flexibility, and the ability to precision and micro-mould components."
Minimizing risk in the operating theatre and beyond
It's not just societal pressures and changes that have formed the need for rapidly-evolving MedTech devices. Changes are also being driven from within the industry, Tom adds.
"A driving force is the Original Equipment Manufacturer (OEM)," he says. "What they're driving to do is make the device more user-friendly and more connected."

"They can monitor usage of the device remotely, to understand what settings they need to use based on individual patient needs and track that data. From a healthcare professional's perspective, a smaller device is less invasive for the patient and which can help contribute to better outcomes."

From a technological standpoint, Tom shared some of the benefits innovation of medical devices could bring to healthcare professionals.

He said: "The key aims of new technology for the MedTech industry are driven from OEM's considerations, so when designing technology such as pacemakers and neurostimulation devices, they're taking input from surgeons. They're taking input from the patients, and they're trying to be more patient-centered."

"I would say miniaturization has been key with every person I talk to in the industry - they're always trying to make these devices smaller. It's just the natural outcome of having something implanted."

It is this nature of implanting a device through surgery that led to PEEK being one of the few compatible choices.

Tom added: "With the selection of materials, medical device designers and engineers are very limited because they need materials to be biocompatible and perform in a range of environments. The typically long lead times for devices to market can impact decision making as well, which, with a proven history in medical devices, PEEK-OPTIMA polymers can help overcome."
Design challenges for active implantable medical devices
Continuing our discussion, Tom highlighted that having a medical implant inside your body brings a whole host of considerations for both patient and surgeon. For example, how can smaller incisions be made possible, and how could miniaturizing devices make surgeries less invasive.

He said: "Device size is a big concern, particularly when batteries need to be designed into the device. Battery life is a huge driver because they can limit the device product lifecycle, and can impact the overall size of the device. Active implantable medical devices are now required to be more connected, which means that capabilities for Bluetooth and RF transmission need to be factored in, along with the ability to recharge the battery."

Limited biocompatible material options have helped to accelerate PEEK's adoption in this space, and during the process of looking at other materials, PEEK often comes out on top because of multiple driving factors.

Tom added: "Material selection can be a challenge. When you look at the short list of materials that you can use for medical implants, it makes it even more challenging. PEEK-OPTIMA has been evidenced through other medical implant applications for more than 20 years. Through industry and applications, it can be tailored to have different types of properties, providing a real versatility.

"Ultimately, you want to deliver a better patient experience and have better clinical outcomes. PEEK helps with that. New technology in this space helps us to be more data-driven, remote-capable and it's allowing us to develop more intelligent devices and services as well. These kinds of high performance polymers are very digital friendly, in terms of transmissibility and electrical compatibility."

"It allows healthcare professionals to understand, diagnose, and treat in a different way, a more efficient way, and it allows more patient-centric treatment also." Marcus explains.


PEEK's benefits within the human body
Tom explained: "When you're at the hospital with a pacemaker, there's a healthcare professional that will come in and set the parameters by which electrical signals are going to pace the heart and the boundaries in which is going to do so. That happens once it's already in your body and the only reason it can happen right now is because of an antenna that's sticking out of the case, making the device a lot larger. With PEEK that wouldn't be needed because it is RF transmissible, and could be designed into the casing, thus saving critical space."

Tom highlights the expertise and technology at Invibio that has helped to innovate and break through barriers to change.

"One of the biggest challenges with choosing PEEK is around the hermetic nature of these devices," he says. "For pacemakers, LCDs or anything in the body, they can't have moisture ingress because the basic function of these devices is to have electronics inside of them and water ingress will destroy those boards and it will eat away. It can cause rust and all kinds of things that affect the longevity of the device."

"Some of the ways that we've looked to overcome this is through welding techniques for PEEK. Some people may find it surprising to hear that PEEK can be welded with laser welding and with ultrasonic welding, then hermetic sealing. There's been a lot of advancements on the electronic side too. To reduce free ions and the sort of things that cause rust to occur."

Tom continued to say that it's not just the hermetic nature of PEEK that has allowed it to excel in the sector, the material's uptake has also been driven by its performance advantages under heat and battery function, particularly when PEEK is selected in a film form. This is proven in consumer applications, for example PEEK is used in billions of smartphones for this very reason.

He said: "If you're recharging the device or adding any step of heat, it really limits the available materials that you can choose that are going to be able to withstand that type of temperature in the body.

"With film selection, PEEK makes a lot of sense, particularly when there are several key engineering requirements and that other materials just aren't able to perform adequately."
"Ultimately, you want to deliver a better patient experience and have better clinical outcomes. PEEK helps with that. New technology in this space helps us to be more data-driven, remote-capable and it's allowing us to develop more intelligent devices and services as well. These kinds of super polymers are very digital friendly, in terms of transmissibility and electrical compatibility."
Thomas Billings
Senior Application Engineer
Invibio
Final Thoughts
We can expect to see evolution across the industry because of uptake and usage of modern active implantable medical devices - whether it's a way of thinking or new practices that evolve. Marcus had some final thoughts: "I think some people look at PEEK polymers in a very analogous way," he says.
"If I switch metal with PEEK, this high-performance polymer is likely to cost a lot more - and that's a traditional way of thinking. Most of the applications that really benefit from PEEK look at the total cost of the solution."

"PEEK enables something completely different and allows engineers to design products that solve problems such as consolidation of parts or moving towards moulding polymers to enable more efficient mass production."

"Therefore, it's important to consider the total cost of the solution and to consider the fact that a new material can bring you a lot of new capabilities that may trigger off completely new product lines or completely new generations of devices. It's important to consider those factors with the cost analysis."

"If you want particularly complex designs, or to be able to do something that you just can't do with the other kind of manufacturing technologies, then it's probably time to start thinking about the benefits of PEEK."
So, there you have it, miniaturisation, less-invasive procedures, the rising need to connect and maintain devices remotely, all while being manufactured to an ultra-high standard of hermetically-sealed, bio-compatible, battery-friendly construction. PEEK's entrance and subsequent position as a mainstay in the MedTech industry is through no fluke or stroke of luck, but a carefully considered antidote to a fast-evolving space in a sector experiencing immense change and disruption.


Do you want to learn more about implantable PEEK and what it could do for your MedTech business? Get in touch and we can provide you a quote in two business days.
You may also be interested in...